Bamboo Bathroom Bundle
$36.21 $87.53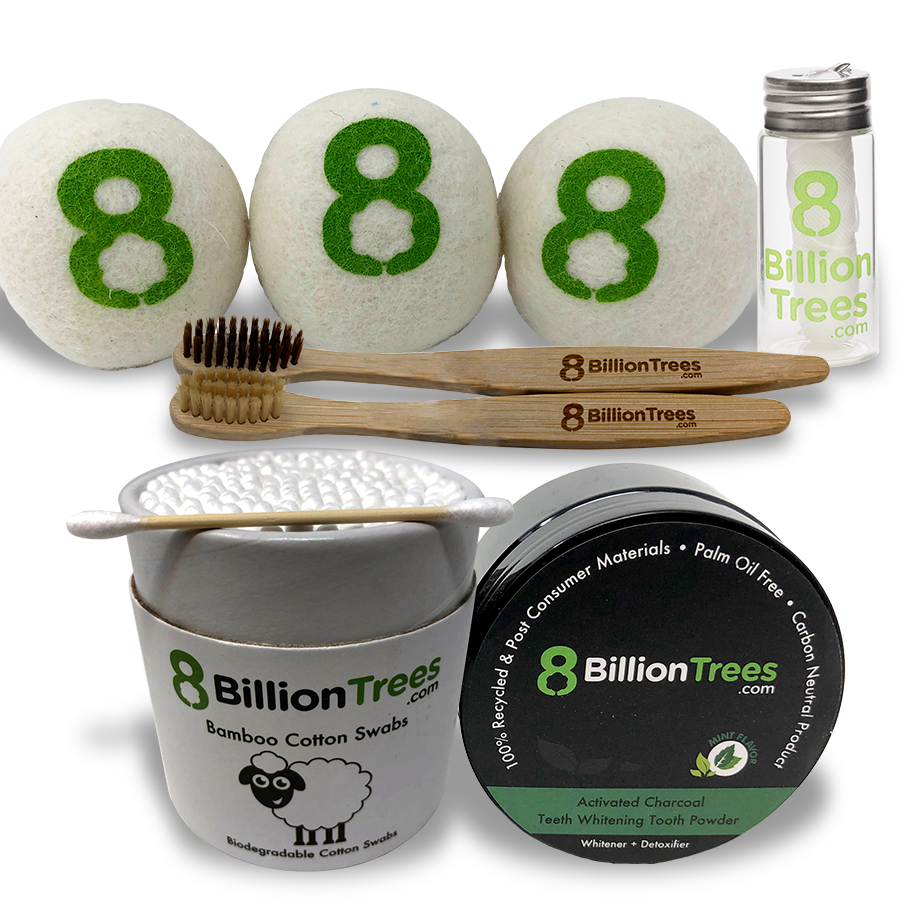 The bamboo bathroom bundle that includes a mix of premium bath and body products. Each item was hand-selected over months to create this special bundle.
This bundle will plant 16 new trees!
Note* This bundle includes Wool Dryer Balls and not Washcloths.
Our brand new bathroom bundle includes all of the following items:

Wool Dryer Balls
Bamboo Cotton Swabs
Organic Bamboo Toothbrush
Activated Charcoal Tooth Powder 
Biodegradable Dental Floss 
Wool Dryer Balls: 
Made from 100% organic materials, when you pop these eco-friendly laundry balls into the dryer, they bounce around and agitate the fabrics, shortening the drying time of each load. By gently separating each item, they act as a natural fabric softener, keeping your cloths static free without using harsh chemicals.
Simply add a few drops of your favorite essential oil to each dryer ball to leave your fabrics smelling fresh, without irritating dyes and fragrances.  
These hypoallergenic, all natural wool dryer balls come in packs of three balls, in a handy, eco-friendly bag and make an awesome gift!
Bamboo Cotton Swabs: 
Our eco-friendly swabs are BPA free, biodegradable, compostable, and use organic materials to create a hypoallergenic product without harsh chemicals or fragrances!  Plus, the packaging and the holder are all made from recycled materials!
Organic Bamboo Toothbrush:
Our organic bamboo toothbrushes are made from sustainable materials that will easily biodegrade after you're finished using it. And, an eco friendly wooden toothbrush with natural bristles provides effective cleaning power for your dental hygiene routine.  
Activated Charcoal Tooth Powder:
Most teeth whitening systems are made with harsh chemicals that can damage enamel with extended use. But, our Activated Charcoal Tooth Powder is completely biodegradable and made from organic Coconut shell ingredients that remove toxins the natural way.
Biodegradable Dental Floss:
This all-natural eco floss is crafted from 100% corn fiber, making it a perfect alternative to plastic. Corn is an extremely sustainable material, and this makes it also a great vegan floss option.
Completely biodegradable, the 30-yard package is stored in a recycled glass bottle, and shipped using 100% recycled materials.
Biodegradable & Sustainable
Carbon Neutral Product
Eco-Conscious
Supports Animal Rehabilitation
Recycled & Post-Consumer Contents
Chemical Free
Supports Planting of New Trees
Hypoallergenic
All Natural Organic Ingredients