Recycled Rainbow Glass Bracelet
$25.00 $30.00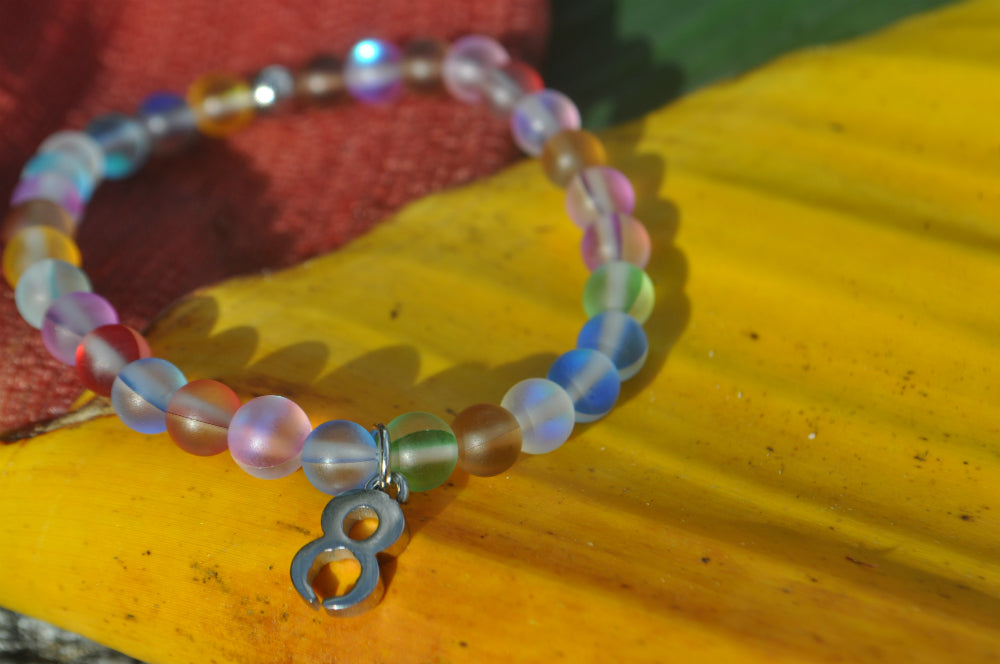 Take a peek at these gorgeous moonstone frosted electroplated glass beads! Each and every bead shimmers with rainbow opal colors.

When you wear this recycled bracelet, you will plant 10 trees and help prevent deforestation and loss of habitat for unique species while fighting global climate change.
Not only that, in the process you will offset 2 TONS of your personal carbon emissions footprint.
Your bracelet will be shipped to your door using carbon neutral shipping and handling. That means you can save the planet and animals without making a bigger footprint.
Want to buy all 8 bracelets and colors? Check out our bracelet bundle here.
Now Offering FREE Carbon Neutral Shipping On 2 Or More Bracelets!
We care about animal wildlife and we know you do too.
When you wear your bracelet you will also rescue animal tree homes.
Every bracelet comes individually-packaged with a custom trading card for each different color.
P.S. if you collect all 8 you will unlock a special gift with a letter from our team in the Amazon.
We are committed to planting new trees, and rescuing abused animals, but we believe that how we conduct ourselves day in and day out matters.
That's why we only use recycled materials throughout our entire shipping and handling process.
Help make your positive impact on the world. With your help, we will use this bracelet to save the planet and the animals that live here!
FREE carbon neutral shipping for 2 or more bracelets
Unisex design
Rainbow colors shimmer in daylight
Recycled metal alloy 8 Billion Trees charm
10 trees will be planted
Animals will be rescued and given care at our wildlife sanctuary in the Amazon
Made from recycled materials
Packaged and shipped using recycled materials
"8 Billion Trees has unselfishly recovered multiple areas of the planet." - Brazilian Government in Tocantins
"Is 8 Billion Trees Legit? The answer is clear: yes!" - Eden Reforestation Projects
"They truly are an amazing group focused on making a difference in every way possible." - Friends of Usambara
8 Billion Trees Commitment to Sustainability
Our operations are 100% carbon neutral. Saving the planet shouldn't be hard and you can feel confident in knowing that supporting us doesn't mean you have to contribute to man-made climate change.
We use 100% recycled and post-consumer materials in the creation of all of our products.
We use 100% recycled and post-consumer shipping materials--from our envelopes and inserts to our shipping labels.