Personalized 8 Billion Trees Certificate - Plant Trees
$95.00 $100.00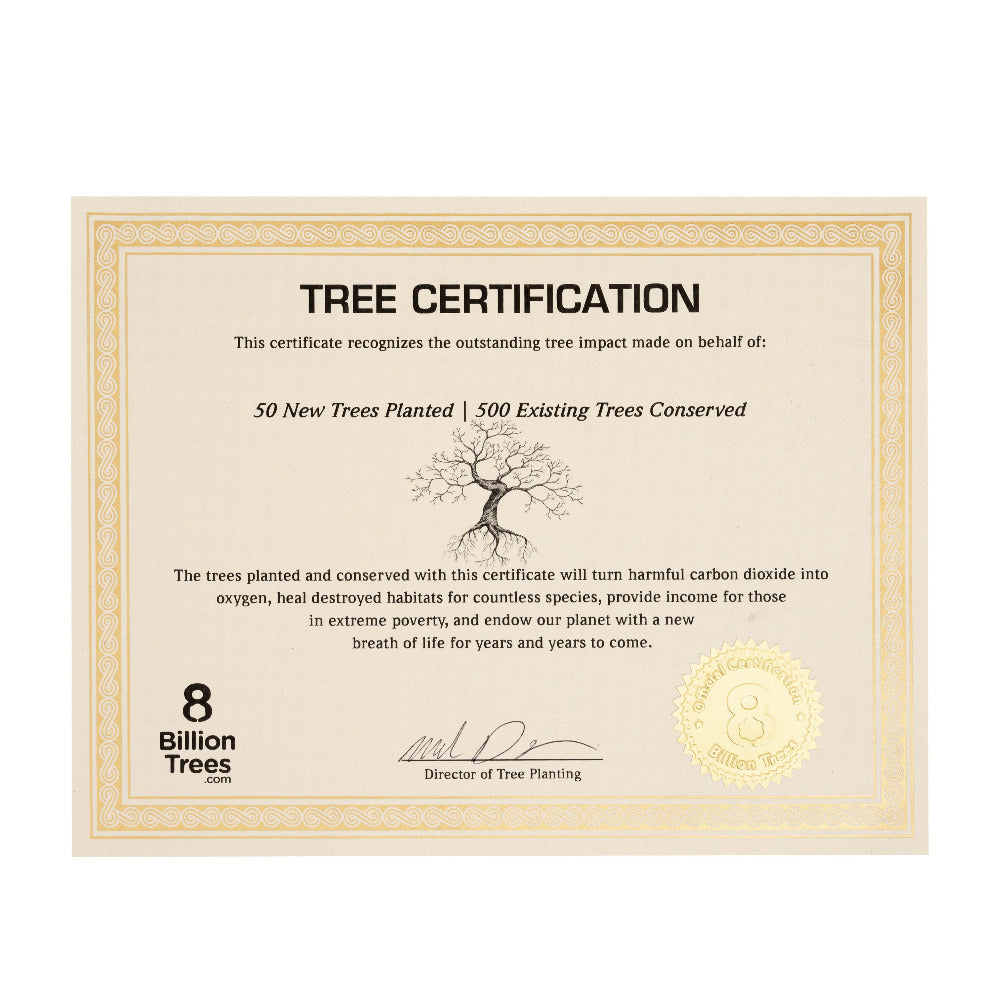 P.S. have you seen our new environmental t shirt collection?
Millions of trees are cut down each day. While many of these trees are sourced sustainably many are not and here at 8 Billion Trees we are fighting to do something about it!
This custom and personalized certificate is all about doing something good for our planet and animals. We will plant new trees for each certificate to make a positive impact this holiday season.
Plant new trees to provide animal habitats and restore the Earth
Provide wages for those in extreme poverty so they can provide for their families

Reverse the negative climate impacts of deforestation taking place
Provide a completely unique and special gift for your family and friends that they probably never expected!
We are able to offer discounts for certificates that plant higher amounts of trees through our partners that isn't normally possible due to environmental factors. This is such a great opportunity to plant as many trees as possible!
When you get your certificate, you will have the option to purchase either a physical certificate that is mailed to you using fully recycled and biodegradable materials or a virtual certificate that is emailed to you instead.
Physical certificate that is mailed to you in fully recycled and biodegradable materials
Virtual certificate that is sent to you by email only
These trees are planted around the world in deforested areas where animals are in grave danger of extinction due to rapid habitat loss.
We only plant in areas where trees previously were so as not to upset the natural balance. And we always use the correct species and tree genetics to make sure the trees last for decades to come.
Our goal is simple, to plant 8 billion trees by 2021 when it's predicted Earth's population will reach 8 billion.
Each certificate is personalized!
That means you will be able to give these as gifts and plant trees for your family and friends.
Just enter their name during checkout or email us at support@8billiontrees.com after your purchase and we will make the certificate completely custom.
Please help us make a positive impact over the holidays.
8 Billion Trees Commitment to Sustainability
We are carbon neutral. The unavoidable carbon footprint from the creation of our products is offset completely through carbon sequestration from the trees that we plant and protect. Saving the planet shouldn't be hard and you can feel confident in knowing that supporting us doesn't mean you have to contribute to man-made climate change. You can find your own personal emissions with our free carbon footprint calculator.
We use recycled and post-consumer materials in the creation of all of our products.
We use recycled and post-consumer shipping materials, from our envelopes and inserts to our shipping labels.