Gift Box: Eco-Friendly Charms
$44.95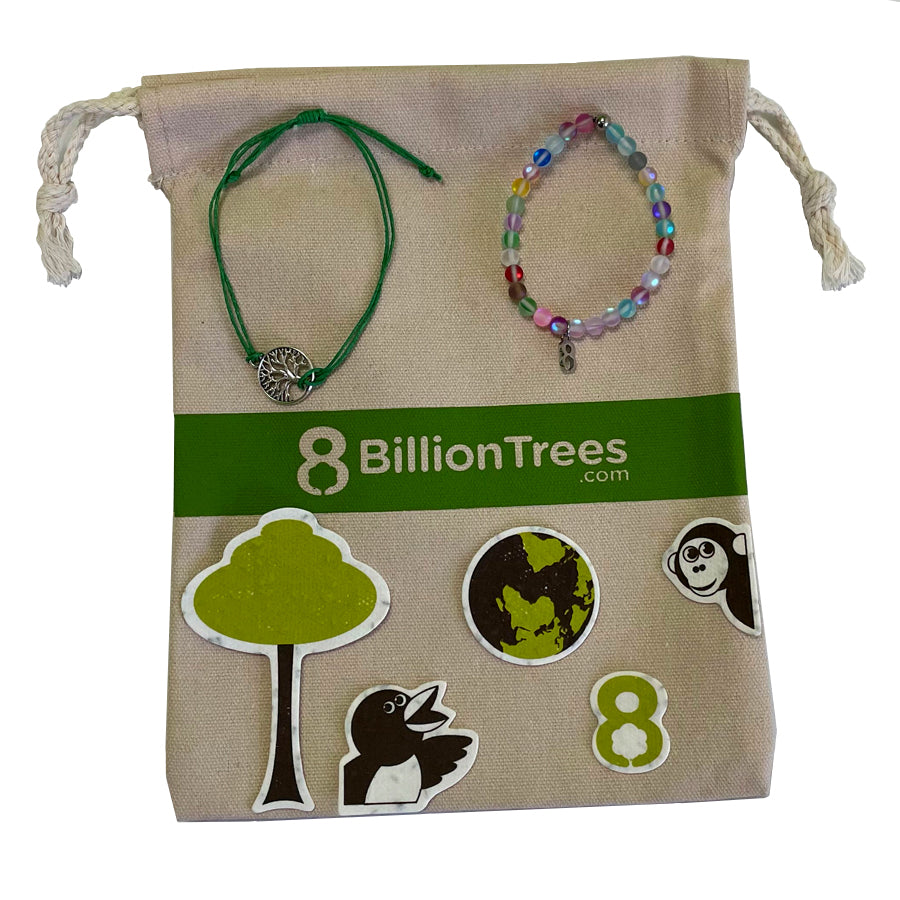 Help eliminate the carbon emissions and surprise your loved ones by choosing to gift 8 Billion Trees' eco-friendly Gift Box.
With every purchase, 8 Billion Trees' will plant 22 new trees!
Our brand new self-care bundle includes:

1 Recycled Rainbow Glass Bracelet 

(color of our choice)

1 Tree of Life Charm Bracelet (color of our choice)
5 Plantable Paper Charms 
Recycled Rainbow Glass Bracelet: 
Our gorgeous moonstone frosted feature electroplated glass beads! Each and every bead shimmers with rainbow opal colors.

When you wear your bracelet you will also rescue and heal abused animals, providing them with emergency veterinary treatment and provide a fresh meal for them to regain their strength.
Tree of Life Charm Bracelet

: 

Our tree of life bracelet symbolized that humans and animals alike are dependent upon trees. We plant trees where they are desperately needed to save animals being forced from their homes due to habitat destruction.

Furthermore, we focus on near-extinct species like the orangutans in Indonesia, the lemurs in Madagascar, and the sloths in Brazil. Without our immediate action and help, these displaced animals will be unable to survive.
Plantable Paper Charms
8 Billion Trees' Plantable Paper Charms offer a fun and practical way to keep in touch and help mother Earth.
The biodegradable charms are made from 350g of recycled paper and embedded with a Sesame and Rudbeckia hirta seed mix… so your message keeps on giving back beauty to the planet after it's read!
NOTE: The bundle does not include the eco-friendly canvas tote seen in the product picture. 
All items are: 
Biodegradable & Sustainable
Carbon Neutral Product
Eco-Conscious
Supports Animal Rehabilitation
Recycled & Post-Consumer Contents
Chemical Free
Supports Planting of New Trees
Hypoallergenic
All Natural Organic Ingredients