Nature Lovers Gift Set
$58.95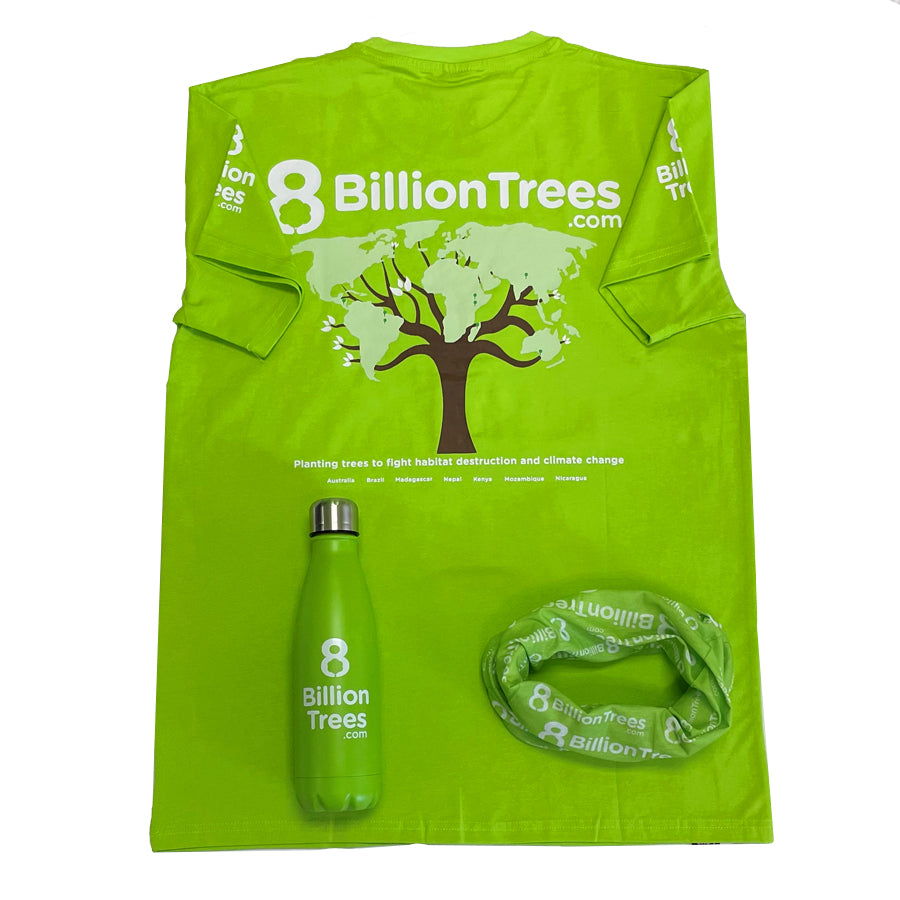 Are you or your loved one an outdoor enthusiast? Surprise your loved ones by gifting them 8 billion Trees' nature lovers bundle and help eliminate the carbon emissions all at once.
With every purchase, 8 Billion Trees' will plant 28 new trees!
Our brand new gift set includes:
1 World Map Tree T-Shirt
1 Recycled Face Bandana

1 Earth Friendly Steel Water Bottle (16oz. Our color of choice)
World Map Tree T-Shirt:
This iconic 8 Billion Trees t-shirt is worn by our team in the Amazon Rainforest and beyond to showcase all of our hard work.
With a unique map of the Earth made out of tree leaves on the back, it displays all 18 countries that we plant in around the world with a list underneath. Like all shirts in our product line, this one is made with high-quality, hand-spun cotton giving it a soft feel while also providing strength and durability for even your hardest tree-planting outings.
Recycled Face Bandana:
Accessorize your tree planting outfit with our branded face bandana!
Our bandanas are manufactured with 100% recycled, post-consumer materials. These bandanas can be worn in a multitude of ways, all of which are comfortable and stylish! Hold your hair back or shield your face from dirt while you're planting.
Earth Friendly Steel Water Bottle

:

These reusable water bottles feature our logo, so you can show off your tree-planting pride while cutting down on the plastics that clog landfills and dirty up the planet's oceans.

These durable water bottles make a perfect addition to any trip, and the sturdy steel construction means that you'll be able to use them for years to come.

All items are: 
Biodegradable & Sustainable
Carbon Neutral Product
Eco-Conscious
Supports Animal Rehabilitation
Recycled & Post-Consumer Contents
Chemical Free
Supports Planting of New Trees
Hypoallergenic
All Natural Organic Ingredients
 Please note, the size selection is for the t-shirt only. All other items are universal sizing.