Sustainable Shiny Whites Bundle
$18.95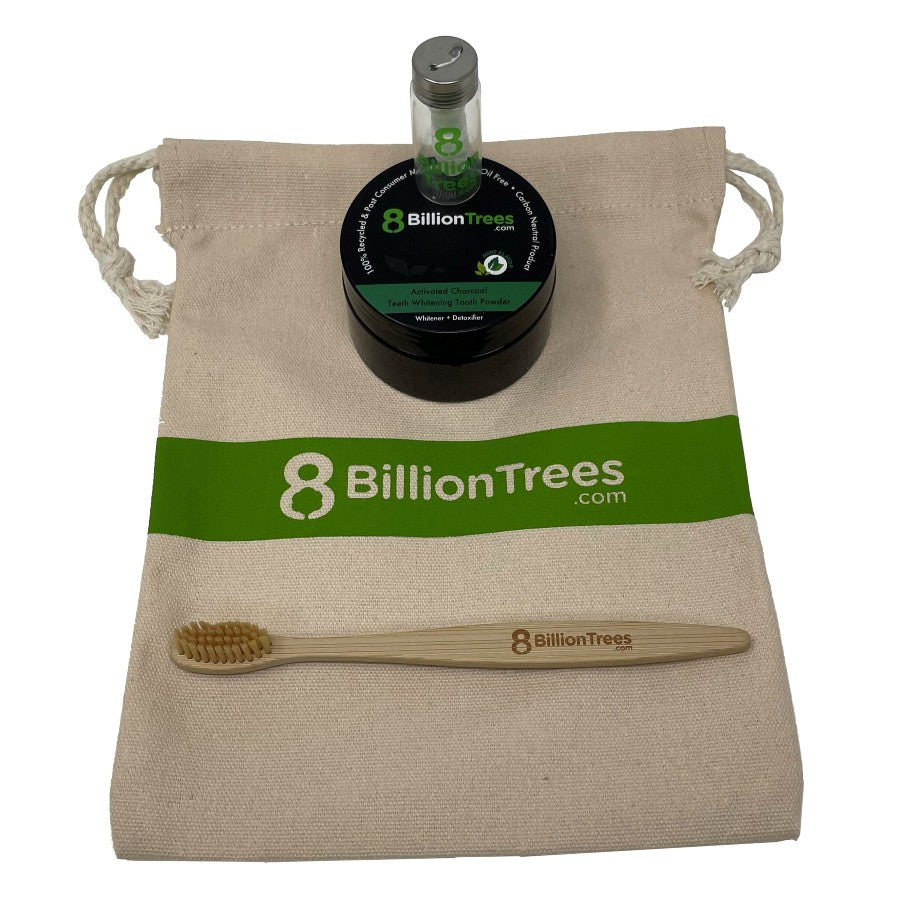 Help eliminate the carbon emissions and keep your oral hygiene in tip top shape by choosing 8 billion Trees' eco-friendly shiny whites bundle.
With every purchase, 8 Billion Trees' will plant 25 new trees!
Our brand new shiny whites bundle includes:
1 Organic Bamboo Toothbrush
1 Jar of Activated Charcoal Tooth Powder 
30-yards of Biodegradable Dental Floss 
Organic Bamboo Toothbrush:
Our organic bamboo toothbrushes are made from sustainable materials that will easily biodegrade after you're finished using it. And, an eco friendly wooden toothbrush with natural bristles provides effective cleaning power for your dental hygiene routine.  
Activated Charcoal Tooth Powder:
Most teeth whitening systems are made with harsh chemicals that can damage enamel with extended use. But, our Activated Charcoal Tooth Powder is completely biodegradable and made from organic Coconut shell ingredients that remove toxins the natural way.
Biodegradable Dental Floss:
This all-natural eco floss is crafted from 100% corn fiber, making it a perfect alternative to plastic. Corn is an extremely sustainable material, and this makes it also a great vegan floss option.
Completely biodegradable, the 30-yard package is stored in a recycled glass bottle, and shipped using 100% recycled materials.
NOTE: The bundle does not include the eco-friendly canvas tote seen in the product picture. 
All items are: 
Biodegradable & Sustainable
Carbon Neutral Product
Eco-Conscious
Supports Animal Rehabilitation
Recycled & Post-Consumer Contents
Chemical Free
Supports Planting of New Trees
Hypoallergenic
All Natural Organic Ingredients