Bracelet Bundle: Connoisseur Collection
$300.00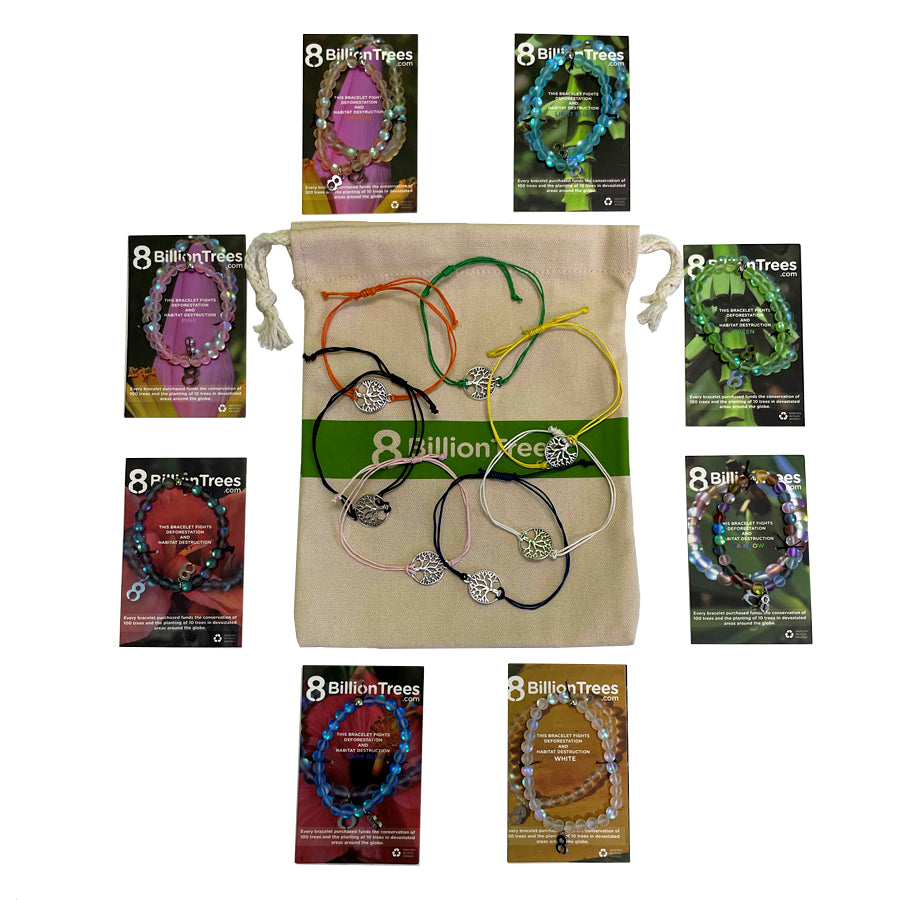 Our all new bundle includes all 8 of our rainbow glass bracelets AND all 7 of our tree of life bracelets.
The rainbow glass bracelets display gorgeous moonstone frosted electroplated glass beads! Each and every bead shimmers with rainbow opal colors.

With each recycled bracelet worn, you will plant 150 more trees and help prevent deforestation and loss of habitat for unique species while fighting global climate change. That's a whopping 80 trees planted! 
Your bracelets will be shipped to your door using carbon neutral shipping and handling. That means you can save the planet and animals without making a bigger footprint.
If you buy this bundle you'll be saving 40 dollars between all our bracelets and healing the planet too!
The rainbow bracelets come in the following colors:
Light Blue
Orange
Green
Rainbow
Grey
Pink
Dark Blue
White
The tree of life bracelets come in these remaining colors: 
Green
Dark Blue
Orange
Black
White
Pink
Gold
All bracelets in the bundle must be one size. 
NOTE: The bundle does not include the eco-friendly canvas tote seen in the product picture. 
Just looking for one bracelet? Order just 1 bracelet here
We care about animal wildlife and we know you do too.
When you wear your bracelet you will also rescue and heal abused animals, providing them with emergency veterinary treatment and provide a fresh meal for them to regain their strength.
Once the animals are healed, they are released back into new protected tree homes where our team has rebuilt their habitat.
Every bracelet comes individually-packaged with a custom trading card for each different color.

We are committed to planting new trees, and rescuing abused animals, but we believe that how we conduct ourselves day in and day out matters.
That's why we only use recycled materials throughout our entire shipping and handling process.
Help make your positive impact on the world. With your help, we will use this bracelet to save the planet and the animals that live here!